This post was no easy task. I had a list a mile long about things that I am thankful for. I could have easily gone for two, but I am sure you don't have all day to read about lil ol' me. I'm linking up with Ashley and Neely today for Sunday Social. So after visiting with me, hop around and read posts from a few other bloggers that are participating today.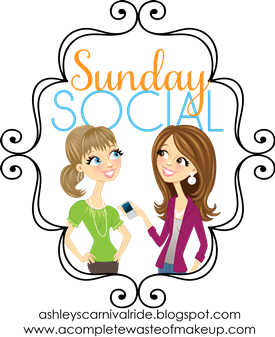 I completely love and adore my husband. He puts up with all of my craziness. He loves me through my meltdowns and he is an awesome father to our children. He has seen me at my worst and loves me until I make it back to my best. I'm not just writing this because he read my blog; it's the truth. 
I am blessed to still have both my parents here with me. Although they are no longer married to each other, that has never impacted their love for me or their grandchildren. When necessary, they have coordinated their schedules to attend events for the kids. Most of all, my parents still treat me like their little girl. Of course, they know I am an adult, but I'm still their baby.
Since my husband has ESRD, he has to have dialysis three times a week. He has been on dialysis for more than three years and we are hoping that he will get the call for the kidney transplant surgery soon. In the meantime, we are blessed with the artificial kidney provided by the dialysis center. 
I know what it's like to be without work. It's rough not knowing if someone will call when you send out your resume. I am thankful to have work right now. I was without and job for about a month and then I worked a crazy low paying job for about two months. I think I spent more money to get back and forth to work than I made going there. It took us three months to get back on track with the bills. Thank God for His provision.
Those little boogers get on my last nerves sometimes. They spend all my money and eat all my food. For some reason, I can't get them to move out of my house. Maybe it's because I really love having them there. I would rather have them home with me than anywhere else in the world. They are the little loves of my life. The reason my heart beats and sometimes they are the reason I want to pull my hair out and I wouldn't have it any other way.
I am thankful for my extended family. I am thankful for friends who are just like family. I am glad to have relationships with people who love and care for me. I grew up as an only child even though I have siblings. By the time I was in third grade, they had all left home and I was alone. It was hard to make friends so the friends I had were very special. I enjoy visiting my family members in other states and countries. We spend a lot of time sharing photos on social media sites and I hope we have a reunion soon.

So, there you have my list of things that I am thankful for…what about you?
What are you thankful for this year?
Related articles
You can